General Health and Wellness posts
Feeling blah? Boost your mood
Brushing up on dental health
Sun safety tips
Hot weather safety tips
Help planning for retirement
Making fitness fun and easy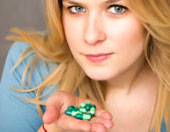 Using medications safely and wisely
Join our discussions:
Comment at How to cook with dried beans from Willy: "You could mention that lentils and split peas are exceptions to..."
Comment at Making fitness fun from booker: "Phone apps may be motivating for some but I still prefer seeing..."
Comment at Sun safety tips from Tamara: "My father was recently treated for precancerous spots on his face..."
Copyright 2023 NebraskaHealth.com. All rights reserved.
Subscribe to our RSS
Information provided here should not be relied on to diagnose, treat, cure or prevent any condition, disease or illness. Please consult with your physician or health care professional for guidance on any health concern. NebraskaHealth.com is a commercial website and is not affiliated with any government agency, university, or private medical center. COMPENSATION DISCLOSURE: This site may be compensated for products promoted here. Read our
Privacy Policy
and
Terms of Use
.